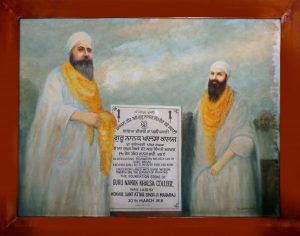 'Gujranwala Khalsa Educational Council is one of the earliest Sikh Societies to spread education. Originally christened as the Khalsa Committee in 1859, its initial endeavour was the establishment of a primary school at Sangla Hills under the patronage of Sant Attar Singh Ji. Thereafter Guru Nanak Khalsa College at Gujranwala now in Pakistan since 1917. It was resurrected in Ludhiana in May 1953, which is now a multi-faculty premier post-graduate Institute in Punjab. Gujranwala Guru Nanak Khalsa College of Pharmacy, Gujranwala Guru Nanak Public School, Gujranwala Guru Nanak Institute of Management and Technology and Gujranwala Guru Nanak Institute of Vocational Studies were the essential steps taken in expanding its horizon. All these achievements in a span of half a century were possible only through the incessant efforts and dedication illustrious like Gaini Lal Singh Gujranwala, S. Jit Singh Chawla, Gaini
Raghbir Singh, and our long-time serving Secretary Gaini Harjit Singh. The Khalsa Educational Council is striving to carry forward the legacy.
The need to come up with GGNIVS was felt by the management in response to certain fundamental  changes taking place in the Indian Educational System and Business Environment. It is a platform for those seeking to learn and improve their Professional, Leadership, Managerial, and Technical Skills.